Presentation
The laboratory is accredited by the COFRAC on a set of programs and has one of the most elaborate and exhaustive scope of accreditation for contaminant research in food and water:
Allergens
Contaminants from packaging and processes
Pesticide Residues
Heavy Metals
Mycotoxins
Alkaloids
Residues of veterinary medicinal products
GMOs
Species authentication
Newly-formed contaminants
Food colouring agents
Dioxins and PCBs
Norovirus and Hepatitis A
Food Microbiology
Nutritional values
Water analysis
Phytocontrol is based in the Georges Besse II Science Park, in Nîmes, France. Its two neighbouring analytical production sites are each covered by a separate cofrac accreditation:
Phytocontrol accreditation in Europe and internationally :
Phytocontrol is accredited by COFRAC according to the ISO 17025 standard.
The multilateral recognition agreements ILAC (international) and EA (European) guarantee the equivalence of our accreditations.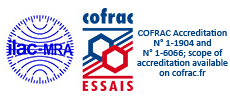 Find here the detail of our complete internal scope.
What is a flexible accreditation scope?
The Phytocontrol laboratory is recognised by the COFRAC as competent to adapt and implement in the field covered by the general scope any recognised method, and to develop any other method for which it has ensured validation.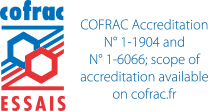 Expertise
A European expert in
testing for contaminants

Responsiveness
Your routine analyses results within 2 to 6 days

Reliability
Our studies are carried out with a view to providing you with the greatest reliability of analysis

Proximity
Our local agencies ensure an active technical and logistic follow up